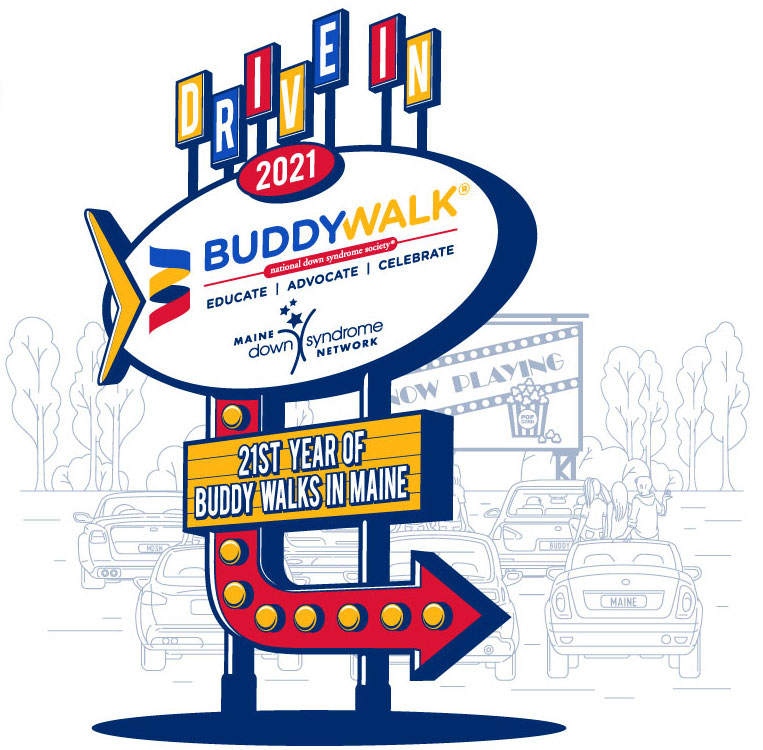 The Buddy Walk is a day of family friendly fun, celebration the abilities and accomplishments of Mainers with Down syndrome.  It is also the largest fundraiser for the Maine Down Syndrome Network.  With the funds raised, we are able to provide information packets to families receiving a new diagnosis, social activities, conferences, workshops and future Buddy Walks!  Everything we do is funded by this amazing event, which also happens to be an incredible amount of fun!
We couldn't let 21 years of Buddy Walking in Maine go by without celebrating!  And yet, we're not out of the woods yet with the pandemic, and it just isn't safe for us to gather the way we have in the past.  Enter this year's Buddy Walks at the Drive-in!  We will be at the Bangor Drive-In on Sunday, October 10, and at the Saco Drive-in on Sunday October 17, beginning at 4:30 pm.  We'll have some games and photo ops, a car decorating contest with prizes, prizes for the teams that raise the most $ and have the most spirit, MDSN swag for sale and more!  You'll bring your fabulous selves and a picnic dinner (concessions will be available at the Bangor location, but NOT at the Saco one).  We will be able to be together, yet keep our distance as well.  And beginning around 6:30, we'll watch a special video and then movie on the big screen! Pre-registration is required and is just $5 per person.  Mainers with DS are free.
Early Bird Special: Those who register by Wednesay, September 22 will receive a free t-shirt, commemorating these unique walks.  (We may have additional t-shirts from past years' at the events, but there will NOT be this year's shirts.)
We've reduced registration costs this year, but we hope you'll form a team and fundraise for MDSN just the same!  Funds raised by the Buddy Walks pay for all the things that MDSN does – from our website and storage area, to our Buddy Walks and conferences.  Most importantly they pay for our outreach to Mainers with Down syndrome, their families, friends and communities.  Our new baby bags full of information, resources and gifts are just one of these outreach endeavors.
Team prizes:
Teams who raise $250 or more by Sunday, October 3 will earn a lawn sign with photo of their loved one with DS and team name or DS fact.  These will be great to put on your lawn to celebrate October as DS Awareness Month.
Car Decorating Contest – Decorate your car to celebrate your team and DS Awareness Month.  Judges will walk around at 5:30pm and then choose the winner.  Please don't obstruct the view of the screen of the people behind you. Please be sure to remove anything that obstructs your driving view before you leave!
Teams who raise $1000 or more by October 30 (yes, fundraising will continue thoughout DS Awareness month) will earn an awareness banner at next year's Buddy Walks.  These banners belong to MDSN, but have your loved one's photo, with a fact about Down Syndrome and are placed along our walk route.  They are beautiful and educational, and are always a huge hit.
There will be additional prizes for the Top Fundraising Team as of October 9 at 11:59pm and as of October 30 at 11:59pm.  Also prizes for the most spirited team and the team with the most members attending at each event.
We will adhere to CDC guidelines and the rules of the Drive-Ins as well.  If you are showing any virus symptoms on the day, we ask that you stay home.  If you choose to leave your vehicle/vehicle parking spot, you must wear a mask that covers your mouth and nose.